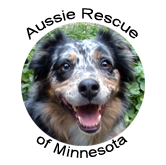 Thank you for your interest in Aussie Rescue of Minnesota.
Our goal is to match your dog with its new forever home as quickly as possible. To accomplish this, we proactively request a lot of information to help us ensure we have the right match from the start, therefore increasing the chances of finding a perfect home the first time and limiting the number of times your dog has to transition to a new life. There are no right or wrong answers to our surrender request form. We do not judge you based on your answers. We just ask for you to provide the truth so we can accomplish the goal – realign your dog to a new forever home the first time and do so with the least amount of transitional stress. Thank you for taking the time to complete this surrender request form.
Please make sure that you have all the necessary information at hand before completing this form (i.e., 4 photos – front, back, left side, right side – of your dog, traits, behavior, vet info).